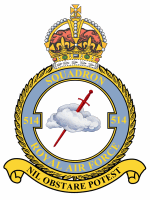 On the night of 27/28 May 1944, a bomber formation flew to Aachen, for the "Rothe Erde 'bombing. According to the reports of the British crews, the Germans put a smoke screen, that sometimes obscured the target markers. Yet this mission was a success. The railway lines, that were not very much damaged with a similar raid two nights earlier, were now completely destroyed. During the bombardment  bombs also fell on the suburb city Forst where 167 people died.
The 514 Squadron operated during that period from the RAF base Waterbeach, and used that night ten Lancaster II. One of those ten was driven by a 28 year old Australian from Brisbane (Australia), Flight Lieutenant Lloyd Taylor. He was commander of the Lancaster 'JI C' and its seven crewmembers, four RAF and three RAAF men.
The Lancaster JI-C crashed in the village Schendelbeke (currently Moenebroek Nature, Nature Reservate managed by non-profit organisation).
What happened to the hours and minutes before the fatal crash on 28/5/1944 Schendelbeke could not be traced.
Theseven crewmembers were :
* Flight Lieutenant Lloyd Taylor – Pilot ( RAAF – Brisbane Australia)
* Sergeant Richard Gill – tail gunner (RAF – Preston Lancashire)
* Flying Officer Frederick Brearley Hill– miduppergunner (RAF – Lancashire)
* Keith Thomas– bomb aimer (RAAF – Australia)
* Pilot Officer William Stanley Newman –radio operator (RAAF – Australia)
* Segeant James Frederick Vincent – Navigator (RAF – London)
* Sergeant Alan Roderick – flight engineer (RAF – Somerset )
None of the crew survived the crash
All seven areburiedat the cemetery of Geraardsbergen.
The plane was excavated in 1999 and a monument was inaugurated in 2010.