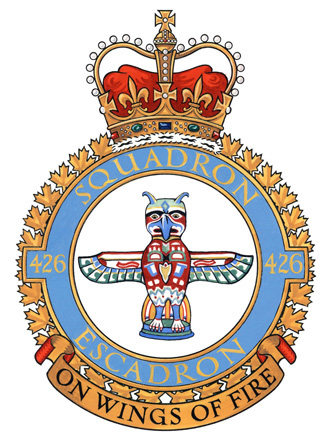 On 12 May 44, No 426 Squadron was tasked with the bombing of the railyards at Louvain, Belgium as part of an 120 aircraft raid. Fourteen Thunderbird crews were on the battle order, and each aircraft carried nine 1000-pound bombs and four 500-pound bombs.
Halifax LW682/OW "M", with Sgt W.B. Bentz and crew never made it to the objective. A Luftwaffe night-fighter ace, Major Martin Drewes, in an Me 110, shot them down near the village of Geraardsbergen. The aircraft crashed into a bog near the River Dender, killing the entire crew. The German records state that the softness of the ground prevented the recovery unit from getting much from the wreck.
The navigator, F/O T.W. Taylor (Chisolm Mills, AB); the bomb aimer, F/O C.S. Phillips (Valparaiso, SK); the wireless operator, WO1 J.E. McIntyre (Biggar, SK); and the flight engineer, Sgt R. Ellerslie (Doncaster, Yorkshire), had each completed two missions. The mid-under gunner, F/S J.E.J.G. Arbour (Montreal, PQ) was on his first mission. The remains of these men were recovered and buried together in the Geraardsbergen (Grammont) Communal Cemetery, East Flanders, Belgium. The pilot, F/S W.B. Bentz (Penticton, BC), and the rear gunner, Sgt F. Roach (Leamington, ON), had each completed three operational sorties. The mid-upper gunner, Sgt J.W. Summerhayes (Brantford, ON), was credited with two operational sorties. The remains of these men stayed lost within their Halifax.
In July 48, the crew posthumously received the Belgian Croix de Guerre with Palm.
On 6 Sep 97, the remains of the lost crewmen were recovered from the crash site and, on 10 Nov 97, buried with their five comrades. A monument was inaugurated in 1999.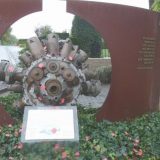 Aluminium of this Halifax was incorporated in the roof of the Bomber Command Memorial in London, that was inaugurated in 2012.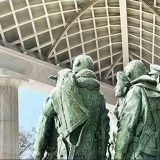 Memorial 70 years Halifax OW-M en Lancaster JI-C
May 10 2014
Arrival guests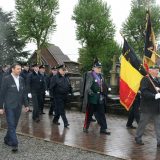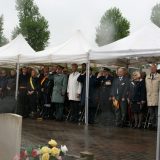 Start of the ceremony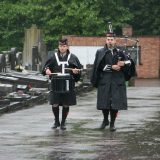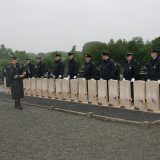 Minister Of Defence Pieter De Crem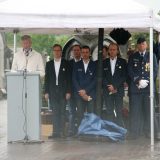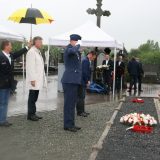 Family and openening exhibition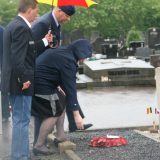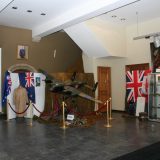 Gift presented at MOD Pieter De Crem